SupportPay:
Your Best Client Solution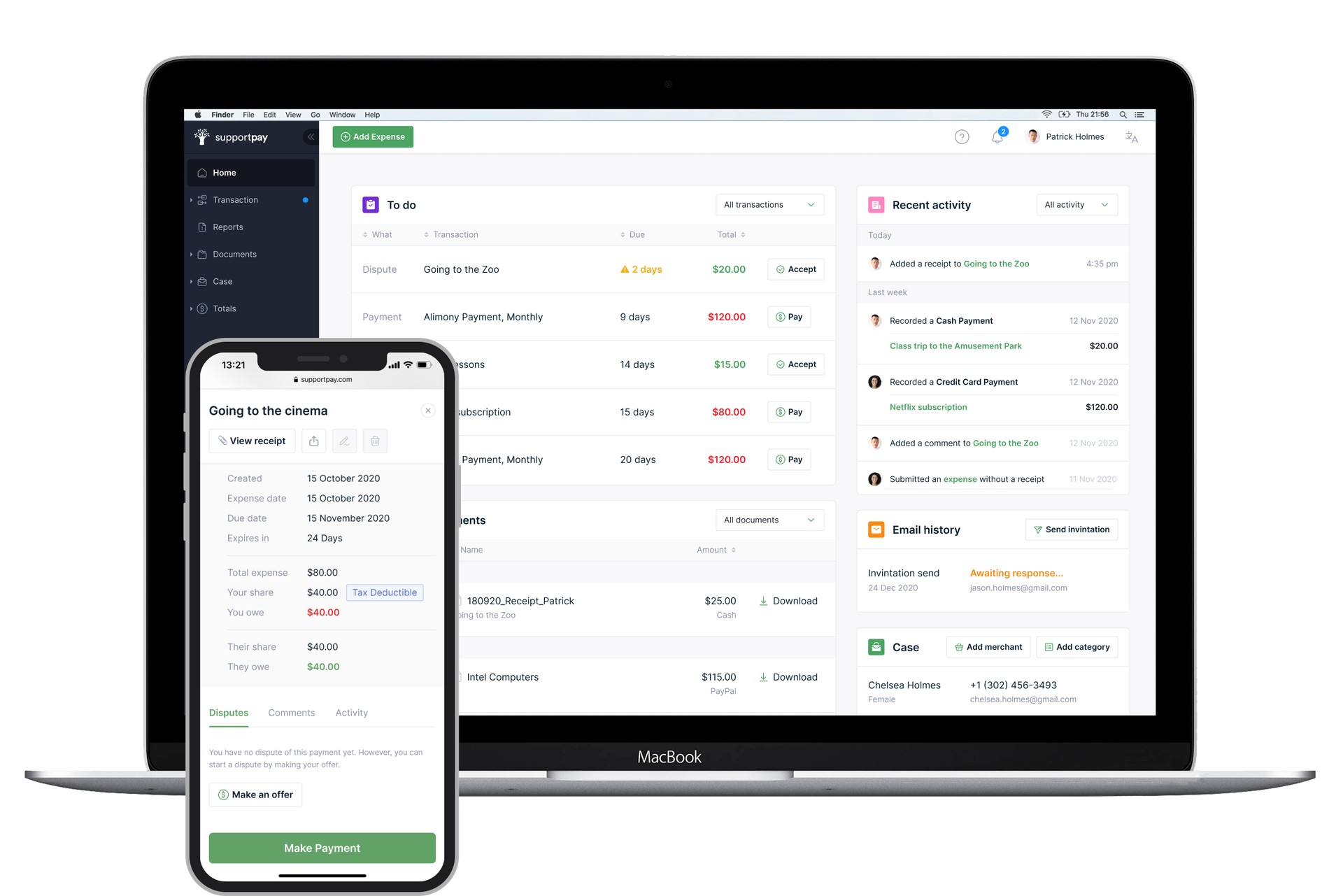 Everyone agrees that divorce is expensive. Help your clients spend their money smarter, get better outcomes, and reduce conflict – with one simple move .
In a recent survey, 92% of divorced parents reported this ONE issue with their family law professionals. Just ONE issue that impacted their overall satisfaction with their representation. Luckily, there is something you can do to address it before your clients get upset. With a small gesture, you can benefit them. Better than that? You'll also help yourself. You will be able to easily prepare for court, assemble polished, legally-admissible exhibits at the push of a button, and find out right away when your client has a legal issue. The best part? It's free.
What is this free, simple, mutually-beneficial thing that 92% of surveyed divorced parents wish their professional did? The thing that you can do right now for free ?
Introduce them to SupportPay , the first app designed to help single parents organize, manage and track child support and expenses. Nearly 50,000 parents living apart utilize SupportPay in all 50 states and 70 countries. When we surveyed our users, 92% told us they wish their representative had told them about SupportPay .
There are so many divorce apps on the market that you may be hesitant to recommend one over the other. SupportPay is different . We are the only child support management app built on a financial platform, meaning your client can make and receive payments, keep records, and store communications without risk of security compromises . Clients can manage base support, bonus and overtime payments, and unlimited additional expenses- from braces, to soccer and beyond. No more messy spreadsheets, public Venmo transfers, or exchange of confidential financial information . All records, payments, and communications are in one secure place, easily printed in legally-admissible format at the touch of a button.
Clients are 90% more likely to pay and receive support when using SupportPay. Conflicts can be handled through the free in-app dispute resolution process. Clients can elect to notify when you when payments are missed or conflicts are unresolved – and you'll have a polished exhibit of summarized support history when you need to go to court. Giving your clients an introduction to SupportPay empowers them to manage support, reduce conflicts, streamline records, and, best of all, never have to talk to their ex about money again.
Exclusive Professional-Client Discount
As a family law professional and single parent myself, I know the divorce process is hard on attorney and client. SupportPay is here to help, and because August is Child Support Awareness Month , we are offering an extraordinary one-time deal. They can get started for free in just minutes, and if they choose a premium subscription, they'll receive an unprecedented 50% OFF !
To share this with your clients, simply copy and past the text below in an email, or share the link to learn more about our platform & current promotions:
SupportPay is the first app designed to help parents manage, organize, and transfer child support, spousal support, and children's additional expenses. With the only support app built on a financial platform, you can simply and securely make and receive payments, keep accurate records, and store communications. Parents are 90% more likely to pay and receive support using SupportPay. The internal dispute resolution process helps avoid ongoing conflicts. Need a record of who paid what, how, and when? Your full support history prints out in a legally-admissible format at the touch of a button (it's great for taxes, too!). SupportPay works for parents paying support through a state agency or directly between each other, and you can use it even if the other parent chooses not to. Over 40,000 parents in every state are using SupportPay to manage, organize, and transfer support. You can find out whether it is right for you at SupportPay.com. Signing up is free and takes just a few minutes. Prefer a premium subscription? In recognition of August as Child Support Awareness Month, you can get a full year of expense support management for 50% off! (about $4 per month). Just use the promo code "attorney50" at checkout. The SupportPay helpdesk is available for personalized onboarding sessions, too. Designed by single parents, for single parents, SupportPay also offers a money-back guarantee. The "attorney50" discount is available only during the month of August, so take advantage while you can!.
*Buttons may not work with your email browser, please highlight & copy text in this case